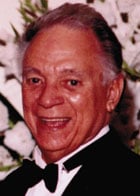 Adolfo Franco
Adolfo M. Franco, 88, of Cedar Falls, died on August 12, 2011, in Alexandria, Virginia, of natural causes. Born in Cardenas, Cuba, on August 26, 1922, he married Miriam Mesa of Cardenas, Cuba, on December 16, 1950. Professor Franco graduated from the University of Havana School of Law in 1945 and practiced law in Cuba for sixteen years before emigrating to the United States in 1961 following the Castro revolution.
Professor Franco and his family moved to Algona, Iowa, in 1963, and to Cedar Falls in 1967. An accomplished and prominent attorney in Cuba, Professor Franco pursued graduate studies in Spanish literature and civilization at the University of Iowa, and was awarded a Master of Arts degree in 1967 and a Ph. D. in 1975. He assumed a position as professor of Spanish at the University of Northern Iowa in 1967. Professor Franco founded the University of Northerm Iowa's Spanish Master of Arts Studies Abroad Program in Soria, Spain, in 1971, and directed the program until his retirement in 1995.
He was preceded in death by his youngest son, Eduardo F. Franco in 1995. He is survived by his wife, Miriam, of Cedar Falls and three children, Puchy Franco of Fort Myers, Florida, Elena M. Franco (Rick Holtsclaw) of Kansas City, Missouri, and Adolfo A. Franco of Alexandria, Virginia.
Copyright Waterloo Courier on-line edition; downloaded August 22, 2011.