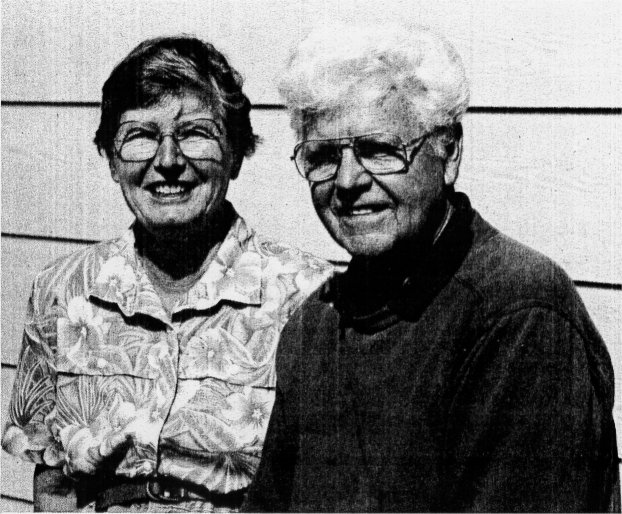 Allan Shields and his wife Bernice, ca. 1993
Allan Edwin Shields passed away on Aug. 14, 2017, of natural causes. He celebrated his 98th birthday in July.
He and Catherine Bernice Shields celebrated their 76th wedding anniversary on Aug. 2 in Fresno.
Allan was born in Cincinnati, Ohio, and raised in eastern U.S. localities until 1935. His family moved west to Piedmont, Calif., traveling the newly opened Route 66. He attended Bay Area schools and the University of California, Berkeley, where he and Bernice met.
Following service in the Army Air Corps during World War II, Allan studied at the University of Southern California. He earned a PhD in Philosophy and Experimental Psychology, and was honored with a Phi Beta Kappa membership.
Allan joined the faculty of San Diego State College in 1949 as Assistant Professor of Philosophy and Psychology, becoming Professor of Philosophy in 1959. He was Professor and Dean at University of Northern Iowa, Cedar Falls, during 1968-1970. He returned to San Diego State in 1970 and retired from that position in 1978. He and Bernice moved to Mariposa County to enjoy mountain living.
In addition to teaching, he served summers as a seasonal Ranger-Naturalist in Tuolumne Meadows, Yosemite National Park, with Carl Sharsmith and Will Neeley. Allan and Bernice founded the Jerseydale Ranch Press in Mariposa, Calif. Allan wrote for local newspapers in Mariposa and Merced, as well as for numerous publications in Yosemite. He was a gifted violinist and an avid horseman.
Allan was preceded in death by his son, Larry Michael Shields. He is survived by his wife, Catherine Bernice (nee Clark) Shields; their sons, Allan Oakley Shields and Richard Minter Shields; daughter Catherine Marie (nee Shields) Jason; as well as numerous other relatives, including grandchildren and great-grandchildren.
Obituary adapted from the August 24, 2017, story in the Mariposa Weekly Gazette.