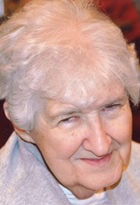 Augusta Schurrer
Augusta Schurrer, 89, of Cedar Falls, died Thursday, January 1, 2015, at Sartori Memorial Hospital.
She was born October 11, 1925, in the Bronx, New York, daughter of Carl and Louise Kaintz Schurrer.
Augusta attended Hunter Junior-Senior High School in New York, and received a bachelor's degree from Hunter College in 1944. She then worked for the U. S. government, assisting in the development of sonar. She earned a doctoral degree from the University of Wisconsin-Madison in 1951.
In 1950 she began teaching mathematics at the Iowa State Teachers College (UNI), where she remained a professor for forty-seven years, retiring in 1997. She was a member of the American Mathematical Association, American Mathematical Society, National Council of Teachers of Mathematics, and the Iowa Council of Teachers of Mathematics.
Survived by: her longtime friend, Diane Baum; and several cousins.
Preceded in death by: her parents, aunts, uncles, and cousins.
Services: 10:30 a.m. Tuesday at St. Stephen the Witness Catholic Student Center on the UNI campus, with burial in Fairview Cemetery, both in Cedar Falls. Visitation from 4 to 7 p.m. today at Richardson Funeral Service, with a 7 p.m. vigil service. Visitation also an hour before services Tuesday at the church.
Memorials: may be directed to the Augusta Schurrer Endowment Fund, the Cedar Bend Humane Society, or any charitable organization of donor's choice.
Condolences can be left at www.richardsonfuneralservice.com
Augusta lived her life to the fullest--traveling all over the world, visiting every continent, supporting and attending numerous fine arts events of all kinds, enjoying the company of her beloved pet family, as well as being an active philanthropist.
Copyright Waterloo Courier on-line edition; downloaded January 23, 2015.