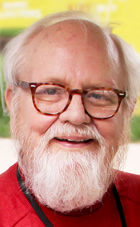 C. Hugh Pettersen
C. Hugh Pettersen of Cedar Falls died Thursday, October 23, 2014, at Covenant Medical Center, Waterloo.
He was born in Brooklyn, New York, son of the Reverend Clarence Henry and Wanda Rynning Pettersen.
Hugh grew up in Forest City and attended Iowa State Teachers College (UNI). He owned the Henry W. Myrtle Gallery. He was a leader in the College Hill Merchant and Professional Association, College Hill Neighborhood Association, and College Hill Arts Festival. He was a member of the Task Force for the Hearst Center for the Arts. He was a board member and president of the Cedar Falls Arts and Culture Board, Cedar Falls Arts Alive, Metropolitan Chorale, the UNI Civic Arts Association, and the Friends of the Gallagher-Bluedorn. Hugh received numerous volunteer awards.
Survived by: several cousins.
Preceded in death by: his parents; a sister, Wanda Annette Pettersen; and a brother, the Reverend Omar Pettersen.
Memorial Concert: 2 p.m. Saturday at the Gallagher-Bluedorn Performing Arts Center.
Memorials: may be directed to the Hearst Center for the Arts, UNI School of Music, and UNI Gallagher-Bluedorn Performing Arts Center.
Condolences can be left at www.richardsonfuneralservice.com
Copyright Waterloo Courier, January 19, 2015, page A10.