Position:
Biology and Science Education Faculty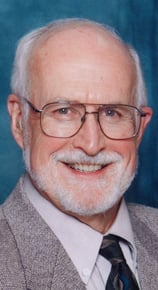 David McCalley
David V. McCalley, 78, of Cedar Falls, died at home, Sunday, June 9, 2013.
He was born July 24, 1934, in Cedar Rapids, son of Ray C. and Idene Vaughn McCalley. He married Marilyn "Mary" Taylor on December 3, 1955, in Diagonal.
He graduated from Marion High School in 1952 and earned a bachelor's degree from Iowa State Teachers College (UNI) in 1956. In 1962, he earned his master's degree from State College of Iowa (UNI) and then his Ed. D. from the University of Northern Colorado in 1980. He taught biology at Cedar Falls High School from 1957 to 1966 and then was employed with the University of Northern Iowa as professor of biology and science education. He was associate director of the Center for Energy and Environmental Education from 1995 to 1997 and served as executive director of the Iowa Academy of Science from 1998 to 2002. He was a member of First Presbyterian Church, Cedar Falls, where he served as elder and was commissioner to the General Assembly. He was past president of CFEA and the Arc of Cedar Valley and served on the board of directors of the Norman Borlaug Heritage Foundation.
Survived by: his wife; two daughters, Lisa L. McCalley of West Des Moines and Ann M. McCalley (Petros Levis) of Minneapolis; two sons, Mark A. of Waterloo and John M. (Becky) of Des Moines; a granddaughter, Krista McCalley; two stepgrandsons, Jesse and Jordan Godfrey; a great-grandson, Aidan M. McCalley; a sister, Diane M. (Richard) Lesh of Georgetown, Texas; and cousins, nieces, and nephews.
Preceded in death by: an infant brother, Donald M.; and a sister, Donna V. (Fran) Luse.
Services: 11 a.m. Wednesday at First Presbyterian Church, Cedar Falls, preceded by an hour of visitation.
Memorials in lieu of flowers: may be directed to Science Education Scholarships through the UNI Foundation.
Condolences may be left at: www.richardsonfuneralservice.com
Copyright Waterloo Courier on-line edition; downloaded June 11, 2013.