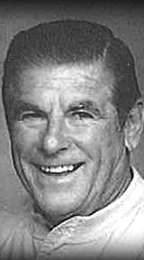 Donald Bingham
Donald L. "Bing" Bingham, 84, of Cedar Falls, died Saturday, May 12, 2012, at Sartori Memorial Hospital.
He was born March 7, 1928, in New Hartford, son of Leo and Violet Miller Bingham. He married Marlys Boyd in Cedar Falls, and they later divorced. He married Donna Beeman Sink on December 19, 1975, in Waterloo.
Mr. Bingham graduated from Cedar Falls High School and attended the University of Northern Iowa. He worked for Hall Oil Company, Waterloo, for many years, also Speedy Delivery Service, and retired from the University of Northern Iowa in 1991.
Survived by: his wife; three sons, Brad Bingham of Kansas City, Missouri, Bryan Sink of Hot Springs, Arkansas, and Bobby Sink of Sanger, Texas; four daughters, Julie Glover of Grand Ronde, Oregon, Sheila Kobliska and Kathy Siems, both of Cedar Falls, and Patty Fisher of Grand Junction, Colorado; sixteen grandchildren; twenty great-grandchildren; and three great-great-grandchildren.
Services: 10 a.m. Wednesday at Dahl-Van Hove-Schoof Funeral Home, with private inurnment in Hillside Cemetery. Visitation from 4 to 7 p.m. Tuesday at the funeral home.
Memorials: may be directed to the family.
Condolences may be left at www.DahIFuneralHome.com
Copyright Waterloo Courier on-line edition; downloaded May 20, 2012.