Position:
Sports Information Director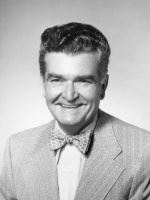 Harry Burrell
Harry Glenn Burrell died Monday, January 10, 2005, as a result of a recent fall. Memorial Services will be held at 10:30 am. Friday, January 14, 2005, at First United Methodist Church, Ames, Iowa.
Harry was born September 13, 1911, in Shawnee, Oklahoma, to Luther and Loretta (Stark) Burrell. He attended Iowa City High School and received B. A. and M. A. degrees in journalism from the University of Iowa. He was the first sports information director at Iowa State Teachers College from 1934 to 1941, and served as the publicity office for the North Central Conference. He was sports information director at Iowa State University from 1941 until his retirement in 1978. During World War II, he served as a gunnery officer in the United States Navy from 1943 to 1945.
On June 2, 1936, he married Gertrude Carper in Morrison, Illinois.
Mr. Burrell was a board member of the Football Writers Association of America, Basketball Writers Association of America, Iowa Golf Association (past president), National Foundation and Football Hall of Fame (nominating committee), College Sports Information Directors of America (past president and editor of the CoSida News-Digest), and Ames Golden Agers. He served on the Ames Youth Committee, West Story County Red Cross Committee, Iowa Section Amateur Athletic Union (publicity chairman), U. S. Olympic Public Relations Committee, and National AAU Publicity Committee. He was a member of the First United Methodist Church, Iowa Sportscasters Association, Sigma Delta Chi, Ames Elks Lodge (past exalted ruler, state vice president, district deputy Elks State Association), and Iowa State Retirees Association (chair). He was public relations consultant to the Iowa High School Athletic Association and the National Federation of State High School Athletic Associations. He managed the Iowa Masters Golf Tournament for forty years.
Mr. Burrell's awards include Helms Foundation Hall of Fame, CoSida Hall of Fame, Iowa Association of Track Coaches Hall of Fame, Iowa Golf Hall of Fame, Iowa State University Hall of Fame, Catholic Youth Organization's National Award for service to media and the nation's youth, Iowa Daily Press Association Distinguished Service Award (1968); City of Ames Distinguished Service Award (1968), Iowa High School Athletic Directors Distinguished Service Award for outstanding contribution to high school athletics, Special Citation from the Iowa State University student body for service to Iowa State, and Faculty Citation for service to Iowa State.
He is survived by his wife Gertrude; a son Colonel (Ret.) Steven K. Burrell and his wife, Jeanie, of Greenback, Tennessee; three grandchildren: Kelly Multach and her husband, Jeffrey, of San Antonio, Texas; Amy Burrell-Tichy and her husband, Guy, of Streamwood, Illinois; and Tim Burrell and his wife, Amy, of Coon Rapids, Minnesota; seven great grandchildren: Nicholas and Adam Multach; Joseph and Katherine Tichy; and Madison, Lauren, and Erin Burrell; and daughter-in-law Joan Burrell, of Ames. He was preceded in death by his parents and a sister, Helen Raber.
Memorials may be directed to the Israel Family Hospice House, 400 South Dakota, Ames, Iowa 50010.
Copyright Iowa City Press-Citizen, January 12, 2005, page 4A.