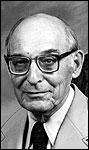 James Bailey
University of Northern Iowa News Services
11/26/84 -- FOR IMMEDIATE RELEASE
RECEPTION TO HONOR JAMES BAILEY FOR HIS YEARS OF SERVICE TO UNI
A reception honoring James L. Bailey, treasurer of the University of Northern Iowa since 1952, and his wife, Jane, will be held from 2 to 4 p.m. Thursday, November 29, 1984, in the Georgian Lounge of the Commons.
All University faculty and staff, past and present, are invited to attend.
Bailey's last day of active service will be November 30, 1984. He joined the Northern Iowa staff (then Iowa State Teachers College) July l, 1950, as the assistant business manager and was named treasurer January l, 1952. In 1977, he was named treasurer and associate director of business services.
He holds the bachelor of business administration degree and a master of arts in economics, both from the University of Minnesota.