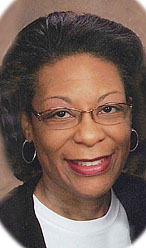 Janet McClain
Respected UNI professor who died is remembered
By PAT KINNEY, posted: Friday, October 29, 2010 5:45 pm
A champion of diversity and a mentor to a generation of teachers educated at the University of Northern Iowa has died.
Janet McClain, who spent twenty-two of her thirty-four years at UNI involved in minority teacher education, died Wednesday, October 27, 2010, at Allen Hospital. She was sixty. Friends say she battled cancer.
"She was a genius at the retaining of African-American students at our university," said friend and colleague Bill Callahan, professor and former dean of UNI's College of Education. "I can say without a doubt she was responsible for one hundred African-American teachers now working in the state of Iowa that wouldn't have been retained at the university were it not for her work.
"She could help them, mother them, prod them along if needed and, as a rule a lot of them wouldn't have graduated without her help."
He said McClain also was an advocate for gay and lesbian students and promoted nonviolent conflict resolution between Latino and white students.
"People had a lot of `A-ha' moments when they spoke with her," said Michael Blackwell, director of the Center for Multicultural Education at UNI. "She was able to bring up an aspect of an issue, or tell a story, that people would not ordinarily have thought of. I admired her for that."
McClain began her career at UNI in 1976, teaching at Malcolm Price Laboratory School. In 1988, she began working on minority recruitment for the UNI College of Education. In 1990 she was named coordinator of the college's Minorities in Teaching program, renamed Multicultural Initiatives in Teaching in 2001. McClain also taught in the college's Department of Curriculum and Instruction and served as director of the Multicultural Teaching Alliance student organization.
Earlier this year, UNI President Benjamin Allen presented McClain and several others with the first UNI Diversity Matters awards. UNI officials said McClain promoted "an environment that celebrates diversity and shows outstanding leadership in the areas of cultural and social understanding."
Gwenne Berry, associate director of compliance and equity management at UNI, said McClain told friends in August her cancer had spread.
"I wanted to weep when she said it," Berry said. "But she stopped me, shook her finger at me and said, `Gwenne, I'm not ready. I'm not ready to die yet. So I'm going to keep fighting.' And she said it with such conviction that I walked away with a smile on my face . . . I can only hope to live my life with the level of passion that Janet McClain lived. "
Services for McClain are pending at Parrott & Wood Chapel of Memories, an Overton Family Service, Waterloo.
Copyright Waterloo Courier on-line edition, November 1, 2010.