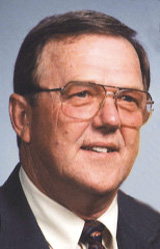 Jerry Duea
Jerry Max Duea passed away at Sartori Hospital on Saturday, October 24, 2009, after battling pancreatic cancer for more than sixteen months. He was born April 24, 1936, in Waterloo, Iowa, son of Joe R. and Freda Dunkerton Duea. He married Joan Meyer on June 10, 1962, in Oelwein, Iowa.
Dr. Duea graduated from Dunkerton High School (1954); subsequently, he earned his B. A. and M. A. degrees from the University of Northern Iowa (1958 and 1966) and his Ph. D. from Iowa State University (1976).
Early in his career, he served as teacher and coach in the Geneva (Iowa) and Alburnett (Iowa) community schools.
He then joined the University of Northern Iowa (UNI) faculty where he spent the remaining thirty-one years of his professional career before retiring in 1997. He spent the first nineteen years of that time in a variety of administrative roles at Price Laboratory School (school psychologist, high school principal, elementary principal, and associate director); he also initiated the N. U. High boys' golf and girls' basketball programs and served as the first coach for each team. Other roles he assumed included serving as secretary of the National Association of Laboratory Schools and Associate Director of the Iowa North Central Association for junior high and middle school accreditation. The remainder of his tenure at UNI was spent teaching measurement and evaluation courses in the Department of Educational Psychology and Foundations. His other professional memberships included the Phi Kappa Phi Honor Society and Phi Delta Kappa.
Dr. Duea's hobbies and interests included golf, spectator sports, coaching and teaching computer programming, reading, word games, writing, traveling, fast cars and boats, and spending time with his wife and extended family at their lake cottage in Minnesota. In his younger years, he also enjoyed considerable success as an amateur/semipro baseball player and pitcher, mainly with the Denver, Iowa, team.
Dr. Duea is survived by his wife, Joan; two daughters and sons-in-law, Jill (Jeff) Bergman and Joy (Kendall) Palmer; and five grandchildren, Jalen and Jaren Bergman and Karly, Jayce, and Jadison Palmer. He was preceded in death by his parents and his sister, Adeline.
Services will be at First United Methodist Church in Cedar Falls at 4 p.m. Tuesday, October 27, followed by a celebration of life at Pheasant Ridge Club House in Cedar Falls. Visitation will be at Dahl-Van Hove-Schoof Funeral Home from 5 to 7:30 p.m. Monday, October 26, 2009.
Memorials may be directed to the Duea Scholarship at the University of Northern Iowa or Sartori Hospital. Online condolences may be left at www.DahlFuneralHome.com.
Copyright Waterloo Courier, October 26, 2009, page A8.