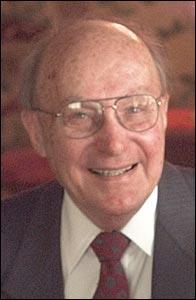 LeRoy Redfern
LeRoy H. Redfern, 87, died Monday morning, March 12, 2007, at the Western Home Communities.
He was born April 16, 1919, in Peru, Nebraska, to Loren Donald and Grace Hallett Redfern. He was preceded in death by his parents, an infant sister, Margaret Louise, and a brother, Loren. LeRoy graduated from Peru High School in 1937 and Peru State Teachers College in 1941. He taught at the high school in Mt. Morris, Michigan, for one year before enlisting in the U.S. Navy in May of 1942.
LeRoy married Nancy Ellen Jones on September 11, 1942, in Peru.
He served for a year in North Africa; then, as a lieutenant (j.g.), he served as dispersing officer on the USS Westmoreland in the Pacific until the end of the war.
Following the war, LeRoy graduated from the University of Michigan Law School (1948), where he was assistant editor of the Michigan Law Review. Nancy attended LeRoy's law school graduation ceremonies; while LeRoy look the Iowa bar exam and traveled Iowa to find the ideal community in which to practice law and raise a family. He found that community in Cedar Falls, and the family moved there within two weeks.
LeRoy was a senior partner in the law firm of Redfern, Mason, Dieter, Larson & Moore for more than fifty years. LeRoy was an active rnember of the legal profession, serving on the Iowa Bar Association Title Standards Committee for twenty-seven years, twenty-two years of which he served as chairman. LeRoy received the highest award that the State Bar Association bestows on its members, the Award of Merit, in 1979 and received the Iowa State Bar Association Community Service Award in 2001.
LeRoy served on the board of directors of a number of area financial institutions, businesses, and non-profit associations. He helped create and establish the Cedar Falls Industrial Development Association and the Cedar falls Industrial Park. LeRoy and Nancy jointly received the Cedar Falls Representative Citizens Award in 1978.
LeRoy helped establish and was one of the original trustees when the Iowa State Teachers College (now the University of Northern Iowa) Foundation was created in 1959 and served forty-seven years on the Board, including over twenty years as vice chairman. He received an honorary Doctor of Humane Letters from the University of Northern Iowa in 2006.
LeRoy was a member of the First United Methodist Church, where he held a number of Ieadership positions. He was a member of the Cedar Falls Rotary Club, serving as president in 1954-1955. He was a member of AMVETS Post No. 49 and received the 1987 AMVETS State Commander's Award. He helped establish and served as the first president of the Peru State College Foundation, receiving its Distinguished Service Award from that institution in 2002.
LeRoy was an avid football and basketball fan who rooted for his teams: UNI, Iowa, Michigan, and Nebraska. He loved the game of golf and his Thursday and Saturday foursomes, senior golf, and the annual week at Madderi's Lodge. He enjoyed preparing presentations for his Supper Club and Arcturus and participating in the debate and discussion of the papers presented by others. Politics and history were interests throughout his life. As a former Nebraska state cornet champion, he had always enjoyed music and loved to listen to the Municipal Band on a summer night and to attend orchestra concerts and other presentations, most recently at the Gallagher-Bluedorn Performing Arts Center. With his wife Nancy, he loved to travel the world. A special destination was Krefeld, Germany, to be with his "German son", Karl Severens and his family. He was passionate about friendships and good times with special friends. Couples Club, boating on the Cedar and Mississippi Rivers, and lake vacations to Clear Lake and Minnesota were favorite pastimes. LeRoy was a devoted son, brother, husband, father, and grandfather. Spending time with family was a special joy. LeRoy was a loyal and compassionate friend, a great listener, and a mentor to many. His passion and zest for life has been an inspiration to his family.
LeRoy is survived by his loving sofe, Nancy Ellen, of sixty-four years. He is also survived by his four children: Don Redfern (Lorelei Heisinger) of Cedar Falls, Dick (Kathy) Redfern of St. Paul, Minnesoata, Anne Redfern of Excelsior, Minnesota, and Dr. Sallie Redfern (Jeff Tomaszewski) of Temecula, California; nine grandchildren, including Bridget (Tom) Carlson, Chirs (Ali) Murphy, Jeff and Luke Redfern, Jackie and Julie Tomaszewski, and Benson, Harrison, and Grant Redfern; two great-grandchildren, Connor Murphy and Noah Carlson; one brother, Willard (Jean) Redfern of La Mirada, California; "adopted" son, Karl (Elisabeth) Severens of Krefeld, Germany; and "adopted" grandchildren, Carina and Alexander; and many nieces and nephews.
Copyright Waterloo Courier, December 18, 2007, Page B8.