Position:
College of Education Faculty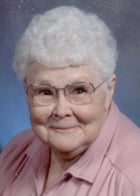 Mary Eakin
WATERLOO — Mary Katherine "Mary Kay" Eakin, 92, of Waterloo, died Tuesday, June 29, after a short illness.
She was born Aug. 20, 1917, in Nashville, Tenn., daughter of Joseph Walter and Hela Blakely Eakin.
Ms. Eakin attended Fort Smith Junior College, Fort Smith, Ark., for two years, then earned a bachelor's degree from Drake University and a Bachelor of Library Science degree and a master's degree from the University of Chicago, Graduate Library School. She taught for a year at Fort Smith Junior High School, then directed the University of Chicago Children's Book Center for 14 years. She also was editor of the Bulletin of the Children's Book Center.
She then moved to Cedar Falls, where she worked for 21 years as librarian of the Youth Collection and then associate professor in the College of Education at the University of Northern Iowa, where she taught classes in children's literature. She retired in 1979. She was involved in many community activities promoting civil liberties and was a longtime volunteer in the museum shop at the Waterloo Center for the Arts.
Survived by: two nieces and a nephew.
Preceded in death by: her parents, a sister and two brothers.
Celebration of life service: will be held at a later date. Her body has been deeded to the University of Iowa. Kearns, Huisman-Schumacher Chapel on Kimball is in charge of arrangements
Memorials: may be directed to Cedar Valley Food Bank and Friends of Hartman Reserve.
She will be greatly missed by a host of family and friends.
---
Article from the Waterloo Courier, July 2, 2010.