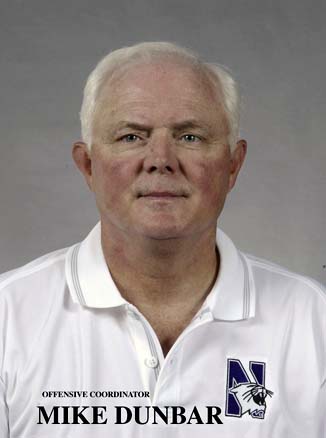 Mike Dunbar
Former UNI Football Coach Dunbar Dies
Mike Dunbar, who was the University of Northern Iowa's football coach from 1997 through 2000, has died at the age of 64 from cancer.
Dunbar replaced Terry Allen at UNI when Allen became the head coach at Kansas. Over four seasons, Dunbar guided the Panthers to a 29-15 overall record and a 14-10 record in what was then the Gateway Football Conference. His teams posted three 7-4 seasons and went 8-3 in 1999.
But UNI failed to qualify for the Division I-AA (now Football Championship Subdivision) playoffs during Dunbar's tenure. Dunbar's best finish in the Gateway was second place (5-1) in 1997, his inaugural season at UNI.
"I think he was very underappreciated when he was here," said Jersey Jermier, a former assistant athletic director at UNI. "He had a great offensive mind."
"I thought he was a great football coach and I think he proved that when he left here and had a great deal of success with some other programs."
Dunbar left UNI after the 2000 season to become the offensive coordinator at Northwestern University. Mark Farley then returned to his alma mater as head coach and remains with the Panthers.
Meanwhile, Dunbar spent five seasons at Northerwestern before going to California to be the Golden Bears' offensive coordinator. Following one year there, he went to Minnesota (2007-2008), then New Mexico State (2010), and finally Northern Illinois in 2012.
A 1972 graduate of the University of Washington, Dunbar began his coaching career four years later at Pacific Lutheran. He also coached at Central Washington, Massachusetts, and Toledo before accepting the job at UNI.
Dunbar is survived by his wife of forty years, Linda, and two children.
Memorials may go to Central Washington University football.
A celebration of life will be held for Dunbar on September 29, 2013, at the Tacoma (Washington) Golf and Country Club. Cards and condolences can be sent to 1437 McDonald Avenue, DuPont, Washington 98327.
Copyright Waterloo Courier, September 15, 2013, page C1.