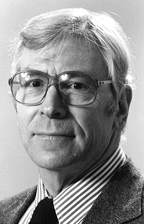 Thomas Ryan
Thomas G. Ryan, 87 of Cedar Falls, Iowa, died Tuesday, November 20, 2012, at Covenant Medical Center in Waterloo.
Thomas was born in Chicago on April 28, 1925, the oldest of the five children of Clinton Ryan and Rose Hansen Ryan. When he was eleven years old, the family moved to Brooklyn, Iowa, his father's hometown. He graduated from Brooklyn High School in 1943 and, like most young men of his cohort, served in the armed forces during World War II, entering the U. S. Army less than four months after high school graduation.
Thomas attended the University of Iowa from 1946 through 1952 and from 1955 through 1959, the last four years as a teaching assistant in the history department.
He married Jane Doyle at Sacred Heart Church in Boone, Iowa, on August 24, 1957. They lived in Iowa City for two years, in Detroit for one year, and in Cedar Falls since 1960. Four of their five children were born in Cedar Falls.
Tom joined the Social Science Department of Iowa State Teachers College (now the University of Northern Iowa) in 1960, teaching thirty-three years until his retirement in December 1993. In addition to teaching on campus, he also taught three UNI correspondence study courses from the late 1960s until the early 1990s. These provided early opportunities in distance learning.
For two years (1968-1970) he also served as the first coordinator of UNI's Minority Group Education Program, a precursor of current university efforts to encourage diversity in all parts of the institution.
In the early 1970's, he began to do research and writing in Iowa history, politics, and demography. The results were incorporated into his History of Iowa course and publication in scholarly journals, especially Annals of Iowa and dozens of articles published in Iowa newspapers, especially the Des Moines Register and the Waterloo/Cedar Falls Courier. He also contributed to radio station KUNI commentaries.
He continued this research, writing and publication for many years after his retirement in 1993, and was a familiar figure on the UNI campus, especially in Rod Library.
Retirement also gave him more time for tennis, Scrabble, and travel in the United States and Europe, and for grandchildren who entered his life and Jane's about two years into their retirement.
Preceded in death by his parents, a brother, Jerome, and a sister, Joan Heath
Survived by his wife, their five children, the children's' spouses, ten grandchildren and two brothers. The children are Kathleen (William) LaCourse of Catonsville, Maryland, Michael (Maria Young) Ryan and Kevin (Gina) Ryan of Littleton, Colorado, Patricia (Kevin) Kroymann of Austin, Minnesota, and Maureen (Deron) Anliker of Overland Park, Kansas.
The grandchildren are Margaret LaCourse; Grace Ryan; Michael, Joseph, and Thomas Kroymann; John, Sarah, and Daniel Anliker; and Emma and Olivia Young. His brothers James and the Reverend Philip Ryan live in Brooklyn, Iowa.
Mass of Christian Burial will be held at 11:00 a.m. Saturday at St. Patrick Catholic Church with burial in Greenwood Cemetery, both in Cedar Falls. Military Honors will be conducted by Cedar Falls AMVETS Post 49. Friends may call from 3 to 5:00 p.m. Friday at Richardson Funeral Service, where there will be a 5 p.m Vigil with Rosary to follow. Visitation also for one hour prior to services Saturday at the church
Memorials may be sent to St. Patrick Catholic Church and the LNI Foundation.
Condolences may be left at www.richardsonfuneralservice.com
From obituary posted by Richardson Funeral Service, Cedar Fall, Iowa, downloaded November 26, 2012.