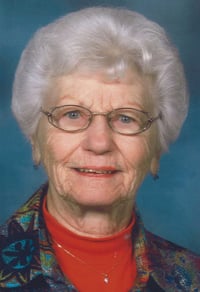 Virginia Diercks
Virginia M. "Ginny" Diercks, 84, of Waterloo, died Sunday, June 6, 2010, at University of Iowa Hospitals and Clinics, Iowa City.
She was born April 19, 1926, in Denver, daughter of George and Caroline Kehe Jahnke. She married William H. Diercks on June 26, 1947, in Denver. He died Nov. 8, 2006.
She was a secretary with Hinson's Manufacturing and the University of Northern Iowa. She retired in 1988.
Survived by: a son, David (Kim) Diercks of Shell Rock; a daughter, Rebecca Diercks of Des Moines; two stepgrandchildren; and four stepgreat-grandchildren.
Preceded in death by: two sisters, Selma Soldwisch and Maxine Steinberg.
Services: 11 a.m. Thursday at Grace Lutheran Church, with burial in Memorial Park Cemetery. Public visitation from 4 to 8 p.m. Wednesday at Hagarty-Waychoilf-Grarup Funeral Service on West Ridgeway, and for an hour before services Thursday at the church.
Memorials: may be directed to Grace Lutheran Church or Cedar Valley Hospice.
Condolences may be left at www.hagartywaychoffgrarup.com.
Copyright Waterloo Courier online edition, June 8, 2010.